Primary Principal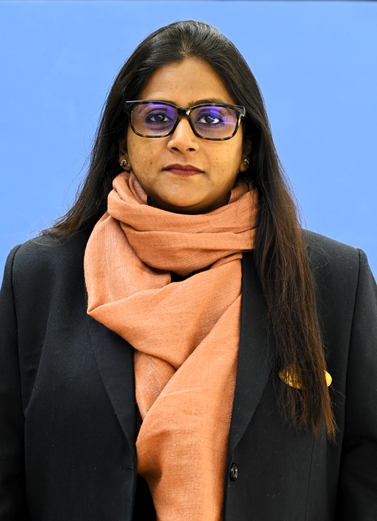 Manya Jain
Primary Principal
Our students bring life and vibrancy to our school. They bring aspiration, ambition, joyfulness, energy, and optimism.
Our responsibility is to nurture, challenge and guide them: To inspire their curiosity and to help them to find their way, and their purpose, supporting them to find and follow their passions.
We encourage our students to explore who they might be, what they might do, and how they might contribute to the world, now and in the future.
Clearly understanding the magnitude of our responsibility, the trust that parents place in us, and the trust and opportunity that every young person deserves. Our commitment is to nurture the whole - mind, body, and soul; we build intellectual curiosity, instill learning agility and demonstrate learning mastery. It's our endeavour to challenge our students to build character, creating lifetime habits that sustain health and well-being for themselves as well as the wider world. We are clear winners when our students emerge adaptable and flexible, with the grit that allows them to be resilient in the face of life's inevitable challenges.
We are simply joining you as partners in the next chapters of your child's life journey. As a School community, we work together, modeling positive choices about how we will live, and looking for ways to contribute to a better future, a better community, and a better world. In learning, we acknowledge we don't have all the answers as we explore problems with curiosity and reflection, bringing fun and a sense of adventure.
The accelerating pace of change in our world, and global challenges, are milestones that bring into sharp focus our life's priorities. Throughout our journey we have sought reassurance and guidance in the face of challenges through living our mission and vision and fulfilling our commitment to our values; to care for one another, staying true to doing the right thing.
To serve. To innovate, and to remain optimistic.
To courageously create the very best for the future.
Regards,
Manya Jain